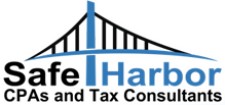 Safe Harbor LLP is a best-in-class CPA firm in San Francisco with a strong focus on international tax. The firm is announcing a new post on COVID-19 complexities.
SAN FRANCISCO, August 7, 2020 (Newswire.com) - Safe Harbor CPAs, a top-rated accounting firm in San Francisco, California, at http://www.safeharborcpa.com/, is proud to announce a new post on international tax issues in the COVID-19 environment. As countries across the globe have announced tax mitigation and special provisions, international tax issues have only grown in complexity.
"International tax issues were complex enough before the virus hit," explained Chun Wong, Managing Partner at Safe Harbor LLP. "Our post alerts clients who have international tax exposure that they really need international tax experts in San Francisco who can straddle the complexities in the United States and other countries like Canada, Germany, China, and other countries. We work with many overseas firms who are area experts."
The post can be read in its entirety at https://www.safeharborcpa.com/if-you-have-to-pay-international-taxes-coronavirus-has-complicated-it/. The post explains as follows. International taxes have always been complicated, especially if a person or company has liabilities in several different countries as well as in the US. (See https://www.safeharborcpa.com/international-tax/ for more information). The owner could be a permanent resident of the US and still have tax liabilities in Canada, Hong Kong, Germany, or anywhere else, and they all have different rules. The owner could be a foreign resident and have liability in his or her home country but also have tax to pay here in the US because they are temporarily a resident. They might have a home here and one in Italy and spend half their time here and half there. They might do that but also have income from Mexico or Sweden. The possibilities are endless. For these reasons, interested persons are urged to reach out to an international tax expert here in San Francisco or in California for personalized advice. 
ABOUT SAFE HARBOR LLP – A PROFESSIONAL CPA FIRM IN SAN FRANCISCO
Safe Harbor LLP is a CPA firm that specializes in accounting and tax services for individuals and businesses throughout the San Francisco Bay Area and greater California.  Safe Harbor CPAs help both individuals and businesses with tax preparation, IRS audit defense, and audited financial statements. The firm prides itself on friendly yet professional service and utilizes state-of-the-art Internet technology to provide quality customer service.
Safe Harbor CPA
Tel. 415.742.4249
Source: Safe Harbor LLP
Share: